Holiday Inn Express for Creatives
We call ourselves a free nation, and yet we let ourselves be told what cabs we can and can't take by a man at a hotel door, simply because he has a drum major's uniform on.
— Robert Benchley
We travel a fair amount for our work, so looking for hotels with reliable services used to consume a fair amount of time before a trip. Then we discovered Holiday Inn Express, which is now our first choice for consistent, efficient service for creative professionals. Since then, we have mostly skipped both cheaper hotels and luxury but less inconvenient ones. When we're working on the road, we don't have time for inefficient services.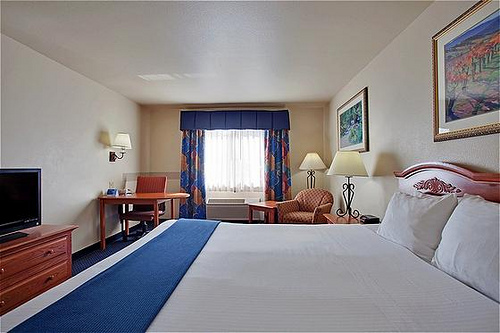 Here's why we stay at Holiday Inn Express almost exclusively when we're on the road:
Holiday Inn Expresses tend to be located conveniently close to main highways and near reasonably priced and efficient restaurants.
The rooms are clean and comfortable.
The beds are comfortable. We work long hard hours when we're on the road, and we can't afford to miss a good night's sleep after an exhausting 15-hour day of shooting photos, interviewing people, research, website development or travel. They offer a choice of firm and soft pillows and clean, comfortable bedding.
The design of the rooms is made for business travelers, with a desk and exercise facilities. Many Holiday Inn Expresses have small refrigerators and microwaves. The rooms have lots of space to lay out and organize photo and video gear and place luggage.
Holiday Inn Express's Internet service is free, simple to access and reliable, unlike some of the more luxury hotels we have stayed in that charge for Internet service that turns out to be unreliable and irritating connect to.
Holiday Inn Expresses have convenient parking to rooms, a boon when we arrive (inevitably) at a hotel at 11:30 p.m., so beat that we can hardly muster the strength to lug our gear into the lobby.
Holiday Inn Express has a free breakfast buffet. It's not gourmet, but it's decent quality, quick and convenient, which is what we care about when all we really want to do is to get on the road and working as fast as we can.
Holiday Inn Express rooms tend to be consistently laid out with the same amenities from place to place. We love going to different places, but when we are working, the last thing we want is to figure out a different system at each hotel we stop at. Holiday Inn Express becomes our home away from home, where we put our luggage in the same spot in every room, set up our desk the same way, hang up our clothes in the same place and get the same level of service. This enables us to avoid the disorientation of a different style of hotel in every location. It means we can turn our attention to capturing photos, video and information about the unique wonderful characteristics of every location we work in.
Holiday Inn Express's reservation and check-in service are reasonably streamlined. The reservations are centralized and available on the website, a mobile app and by telephone. If one Holiday Inn Express in an area is full, often there will be another one near by. Instead of having to look up a list of hotels and go from one to another getting a different reservation system for each one, we can just call one number in our contact list.
We also appreciate that Holiday Inn Express has never charged us hidden charges – a good rate for the room and then adding other charges as some other hotels have.
Holiday Inn Express has a rewards program that once in a while earns us a free room for a night for a bargain price – a great bonus when we are pursuing self-initiated projects.
On most occasions when we have forgotten an item such as toothpaste, the staff has provided a replacement.
Our second choice: We've had good luck, albeit limited experience, with Spring Hill Suites. Ones we have stayed in have beautiful suite-style rooms that are laid out for business travelers and they have most of the amenities that Holiday Inn Expresses have.
Note: This is an editorial review, not an ad for Holiday Inn Express. We have no connection with Holiday Inn Express except as regular business customers who pay our way.
TOP PHOTO BY FORREST ANDERSON, HOLIDAY INN EXPRESS IN QUEENSTOWN, MARYLAND
SECOND PHOTO: HOLIDAY INN EXPRESS PASO ROBLES FLICKR, available through fotor.com under through a creative commons share alike license.